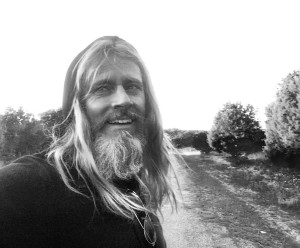 Justin Charles Press, born of an English lady and a German gentleman, is a well-traveled gypsy who's never happier than when he's wandering the streets of a foreign city. He is a canine enthusiast who plays soccer, shoots pictures, reads books, and invests much of his leisure time viewing classic horror films and British comedies. A student of Germanic languages, he loves metal, doom folk, '70's rock, prog-rock and some trip-hop.
Justin was five years of age when he received Alice Cooper and Sabbath albums, and he says he never looked back. His life as a metalhead has been one of concerts, global travel festivals, and a career fueled by the music he loves. He has worked with live event giant AEG Live, rubbing elbows with the likes of Ozzy, Metallica, Slayer and Ronnie James Dio. He currently helps produce hard rock full charter cruises including a branded Motorhead cruise called "Motorboat". Justin is a writer for several music publications and enjoys photographing live concerts. He says, "I am a single degree removed from Black Sabbath as my mum was born and raised in the town of Aston on the outskirts of Birmingham, United Kingdom –  the very same as those originators of heavy metal."
One look at his photography, and you'll find it difficult to believe that Justin has had no formal training. A graduate of the University of Texas, everything he knows has been self-taught or attained through experience . He will tell you he has "no technical expertise",  but he clearly has an eye for pulling strangely beautiful compositions out of the seemingly mundane.
The photographer prefers black and white to color. "It helps me focus on the subject more than the scene," Press says. "I prefer a street shooting style since studio work to me is boring as shit. I respect people who can light up a subject but I'd rather find the light."
[quote style="boxed" float="right"]"When I'm shooting in the city I usually listen to mood music (while keeping eyes in the back of my head). I look for characters. You can sense who has the goods."[/quote] Press says he draws inspiration from daily life and from artists who've come before him. He finds solace in music and can apply the lyrics of a song to his own art. "When I'm shooting in the city I usually listen to mood music (while keeping eyes in the back of my head). I look for characters. You can sense who has the goods." His favorites are Miles Davis, Massive Attack, Richard Ashcroft, Led Zeppelin, Pink Floyd, and
Spleen and Ideal
by Dead Can Dance "if the weather is right." He notes that his photography soundtrack is not exactly metal, but explains that he needs music while he's shooting that opens up his mind to be creative. Also, the mellow music allows him to pay attention to his surroundings while he's out shooting solo.
His favorite photograph is also his most grim. Taken in Manhattan on Fifth Avenue in front of a posh shopping area, a homeless, young, sleeping black female is using a trash can as her pillow and a thin, dirty sheet as her only cover against a harsh December winter. Hundreds of shoppers step over her, not giving any notice. She never wakes to see what chaos is swirling around her. Thirty feet away, another woman is shopping for a jeweled necklace while this one is hoping for some food in the next 24 hours, for maybe one kind soul to deliver her a moment of peace. For Justin, the scene held everything he looks for in a shot: despair, detachment, the human animal, and empathy.
The photographer's current subjects are his beloved dogs, the night skies of his home in Texas, and dirty back roads in farmland. This time of year he also enjoys forays into old graveyards. He is currently working on a book for 2016 titled The Auslander, which will feature his work with the Ricoh GR camera, a fixed lens wide spectrum camera that is so simple, but so exceptional, that it is his "go-to" eight times out of ten. "It's simple set-up which lets you concentrate on finding your subjects, nothing to fiddle about with.", says Press. "You create your settings, then use one hand to operate and focus. It's exceptional because this stealth, little black camera draws no attention.  It's a tad larger than a deck of cards, yet has the same sensor and capabilities as the cameras that look like a breadbox. Remaining invisible is key to getting shots of people so that they are not intimated (or are completely unaware they're being photographed.)"
While Justin loves to share his work with the public, he needs no approval or praise, but only seeks to impress himself. "Nowadays,"says Press, "unless you run into a very studied photo hound, most of the time you'll get 'Cool shot, Dude'. Occasionally a 'Whoa' will leap forth. I do have other shooters say how much they like my travel work. So that is always a bonus to hear something from someone in the field. But I'm okay with 'Cool shot, Dude.'"
To view more of Justin's work, check out his instagram account: @justinuk
AWS.MinimumParameterRequirement: Your request should have atleast 1 of the following parameters: 'Keywords','Title','Power','BrowseNode','Artist','Author','Actor','Director','AudienceRating','Manufacturer','MusicLabel','Composer','Publisher','Brand','Conductor','Orchestra','TextStream','Cuisine','City','Neighborhood'.