The second season of the Netflix Marvel Comics series 'Daredevil' was pretty intense, thanks in large part to the performance of Jon Bernthal as Frank Castle, aka The Punisher. Now The Punisher will headline his own series on Netflix.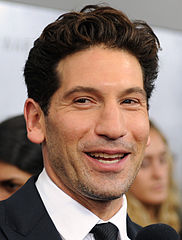 Marvel's The Punisher spin-off ordered by Netflix
EW has learned that Marvel has ordered a spin-off starring vigilante character introduced in Daredevil season 2.
Jon Bernthal will reprise his role as vengeful military veteran Frank Castle, who brings his own lethal form of justice to Hell's Kitchen.
Writer and executive producer Steve Lightfoot (Hannibal, Casualty) will serve as showrunner.
The Punisher joins Daredevil, Jessica Jones, Iron Fist, and Luke Cage as another collaboration between the streaming media service and Marvel. It is not yet known whether Frank Castle will be a character on the future ensemble series The Defenders.
Fans of The Walking Dead will know Bernthal from his intense portrayal of Rick Grimes' frenemy Shane Walsh.
AWS.MinimumParameterRequirement: Your request should have atleast 1 of the following parameters: 'Keywords','Title','Power','BrowseNode','Artist','Author','Actor','Director','AudienceRating','Manufacturer','MusicLabel','Composer','Publisher','Brand','Conductor','Orchestra','TextStream','Cuisine','City','Neighborhood'.