Dallas, Texas 2016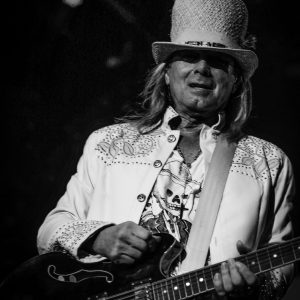 As the better part of 46 years rolls towards the band, Cheap Trick still retains its moniker as "the hardest working band in the business" performing upwards of 200 gigs a year, be it state fair, dark club, vintage theater or hollowed arena, the Rockford, Illinois icons just can't rest on their laurels. Nope, theirs is not a country for old dying men as they put on display yet again in the blazing 100 degree temperatures of Dallas and the relic amphitheater that anchors down the city's Southside.
As part of a newly minted Rock Hall (of Fame) triple-header featuring Heart and Joan Jett, Cheap Trick—being the gentlemen they are—opted to open the proceedings letting the ladies have the spotlight further into the evening. Of course, what they unintentionally do is create such a high bar that any act that follows has to have an A game set to even compare. With an hour, the Tricksters plowed thru "Big Eyes", "Lookout", "Hello There", "The House Is Rockin'", "Dream Police" as well as the standard bearers "I Want You To Want Me" and the blazing Who-inspired 'Surrender". With a stage decked out in the band's usual chessboard color scheme, it was not merely a question of "check" but "check mate" for their tour mates. The gauntlet was thrown, who will stand up and be counted?
AWS.MinimumParameterRequirement: Your request should have atleast 1 of the following parameters: 'Keywords','Title','Power','BrowseNode','Artist','Author','Actor','Director','AudienceRating','Manufacturer','MusicLabel','Composer','Publisher','Brand','Conductor','Orchestra','TextStream','Cuisine','City','Neighborhood'.