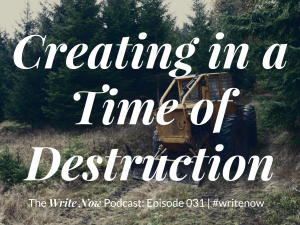 This week, Sarah talks about the power writers have — the power you have — to create something new and wonderful out in a wilderness of wreckage. Interested? Come and listen, and be sure to leave your thoughts in the comment section!
Visit Sarah's website and subscribe to her iTunes feed.
AWS.MinimumParameterRequirement: Your request should have atleast 1 of the following parameters: 'Keywords','Title','Power','BrowseNode','Artist','Author','Actor','Director','AudienceRating','Manufacturer','MusicLabel','Composer','Publisher','Brand','Conductor','Orchestra','TextStream','Cuisine','City','Neighborhood'.